Product Details
Support
Documents
SnowMirror Backup

ServiceNow data is vital to your organization. However, the data can never be completely safe from human errors, malicious insiders, or errors in automated scripts and integrations.
SnowMirror Backup is a smart data backup tool for ServiceNow. The data is retrieved from a ServiceNow instance and stored onto a filesystem in your local environment. SnowMirror Backup backs up individual tables or even columns, and you can specify a detailed filter query so the amount of data is low and the whole backup is focused on the data really needed.
How SnowMirror Backup Works?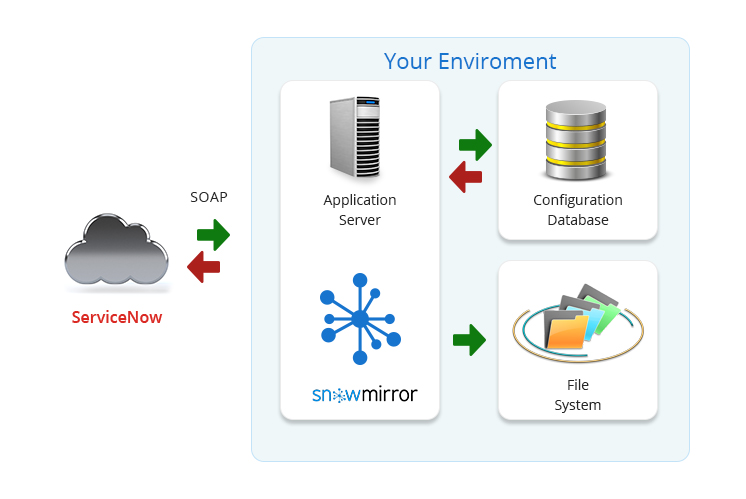 SnowMirror server is running as an agent service in your environment. According to configured backup jobs, it performs either full or incremental backups from a ServiceNow instance stores them onto a file system. No ServiceNow changes are needed, the mirror uses out-of-the-box API available in every instance.
There are two data formats supported. The native ServiceNow XML which allows importing the data quickly back to the platform and a universal CSV export. The restore process is designed to be under your full control by using standard import sets and admin features in ServiceNow.
Benefits
Local Backup
Backup ServiceNow data onto a filesystem in your local environment. Restore the lost data caused by human errors, malicious insiders or errors in automated scripts. Select individual tables, schedule regular backups and configure retention policy as needed.
Data Recovery Under Control
The restore process is a semi-automatic procedure to avoid data corruption while restoring the backup. You can either use the low-level ServiceNow import XML feature or the more standard and robust import sets. The recovery is under full control of your ServiceNow administrator.
Transfer Data between Instances
Use existing backups from your ServiceNow production instance to restore selected tables in the sub-production instances. No need to clone the whole instance if you need only a couple of tables to perform test or development tasks.
Get SnowMirror Backup
2.
To activate SnowMirror, choose one of the licenses below
Standalone
Free upgrades & new features:
Yes
Price:
$10,000 first year, $5,000 renewal
Enterprise Edition Upgrade
Free upgrades & new features:
Yes