The SnowMirror team proudly announces the release of SnowMirror 4.6 which is fully compatible with the new ServiceNow Orlando release. The new features and improvements focus mainly on analyzing failed synchronizations and troubleshooting. These new features let our users see synchronization progress in a visual way instead of a raw log file. We've also identified typical errors and warnings and each of these scenarios gets a troubleshooting guide.
Activity Visualization
Every synchronization run displays its progress in a visual way. It clearly shows individual phases of the run. It dynamically displays the current progress as well as all warnings and failures.
All phases contain fine-grained steps clearly describing what is SnowMirror doing and what is the result of this step. This helps mainly with identifying root-causes of potential issues. The activity page clearly shows which phase and which step has failed. It also displays a human-readable error message with an explanation.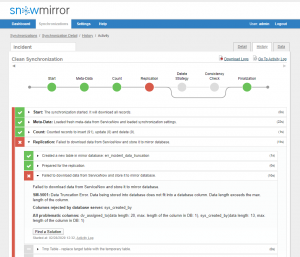 Troubleshooting Guide
The new SnowMirror 4.6 contains a catalog of typical errors and warnings. Each error has its own error code used on an activity page, activity log and in SnowMirror documentation. For every single error code, there is a guide with one or more recommendations on how to tackle such an issue. Just use the Find a Solution button on the activity page.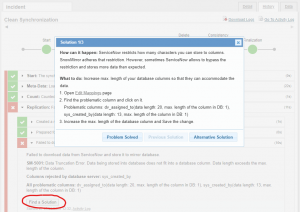 We encourage our users to suggest additional typical issues, so we can include them in our catalog. Please send the suggestions to support@snow-mirror.com.