SnowMirror by GuideVision, the smart replication system for ServiceNow, is now included in Infosys' market-leading Cobalt and Enterprise Service Management Cafe solutions.
Infosys Cobalt has a large repository of ServiceNow industry cloud solutions such as the Enterprise Service Management Café. This will now be bolstered by GuideVision's SnowMirror suite of industry templates to strengthen Infosys' ServiceNow capabilities for our clients.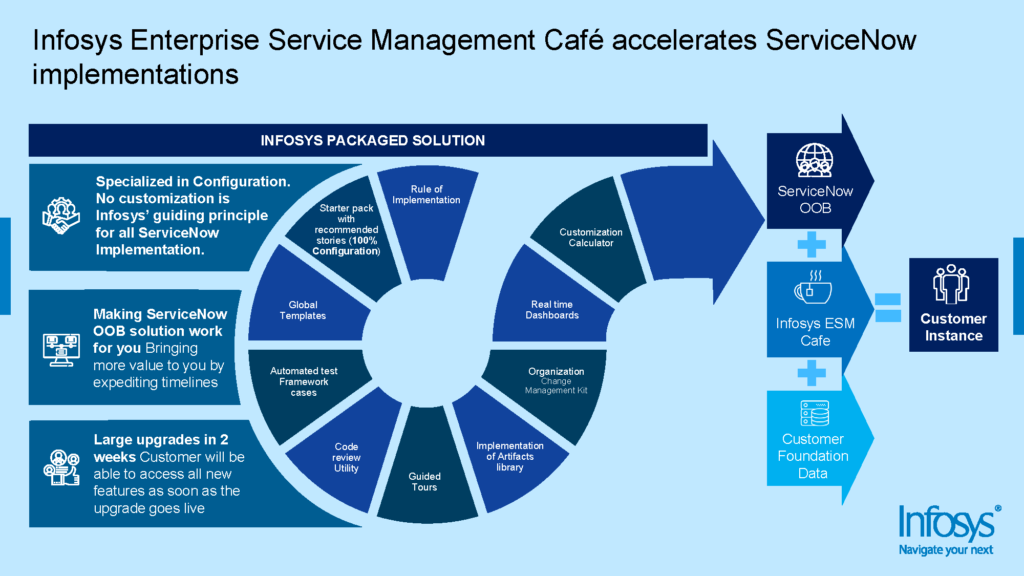 ESM Café: Making your ServiceNow implementation faster through AI
ESM Café is an AI-powered plug and play solution with all the process templates you need and the ready-to-deploy code that makes your ServiceNow implementation 40 to 50 percent faster.
With ESM Café, you can pick from a choice of over 50+ super-useful plugins to manage your always-on service delivery landscape. The solution has all the base artifacts available along with ready to deploy code that allows our customers to stand up their instances immediately. This creates the productivity savings and efficiencies you need to drive innovation in enterprise service management and continuous service improvement, not just for IT but beyond for other business functions.
The outcomes are significant, such as 30% improvements in user satisfaction along with 25% reduction in efforts.

Infosys Cobalt: A force multiplier for cloud-powered enterprise transformation
Infosys Cobalt is a set of services, solutions and platforms that acts as a force multiplier for cloud-powered enterprise transformation. Infosys Cobalt helps businesses redesign the enterprise, from the core, and also build new cloud-first capabilities to create seamless experiences in public, private and hybrid cloud, across PaaS, SaaS and IaaS landscapes. With Infosys Cobalt's community leverage, enterprises can rapidly launch solutions and create business models to meet changing market needs while complying with the most stringent global, regional and industry regulatory and security standards.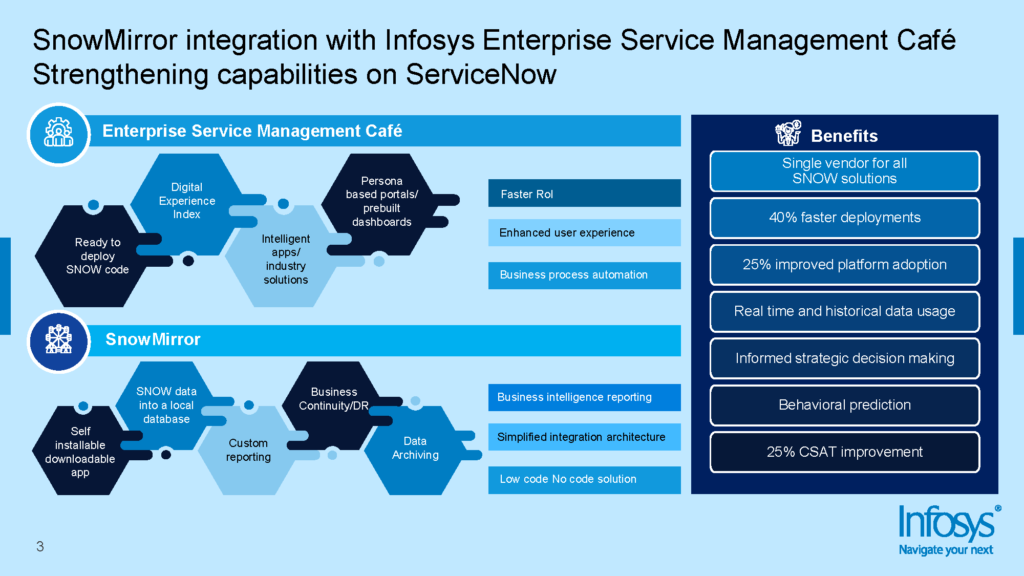 SnowMirror by GuideVision: A smart data replication tool for ServiceNow
SnowMirror by GuideVision is a smart data replication tool for ServiceNow that enables over 100 enterprise clients globally to simplify complex data related business and IT processes.
SnowMirror enables companies to easily and reliably make copies of their ServiceNow data for use in external databases such as Oracle, Microsoft SQL Server, MySQL and Snowflake. Once replicated to an external database, the data can be used in a number of ways, including business intelligence platforms such as SAP Business Objects, Tableau and Microsoft Power BI.
To find out more about how SnowMirror by GuideVision can help your organisation navigate its next, please get in touch.