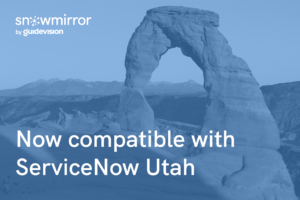 The new ServiceNow Utah release is available, and with it we're happy to announce the release of SnowMirror 5.1, which is fully compatible with the Utah release.
ServiceNow Utah offers a number of improvements to the best-in-class workflow management platform. It enables you to create value across your organization faster with simplified experiences, purposeful automation, and organizational agility.
With ServiceNow Utah, you can deliver simplified experiences that drive productivity and satisfaction with Next Experience—Theme Builder, mobile theming, and workspaces. You can power purposeful automation, optimizing processes to reduce cost, and maximize efficiency with the Process Optimization and Workforce Optimization expansion. In addition, you can create organizational agility to innovate faster with flexibility and scale with the new product introduction of Health and Safety for workplace incident management.
SnowMirror is the smart replication solution for ServiceNow. With SnowMirror, you can make a copy of your ServiceNow data to your own infrastructure, either on-premises or in your own cloud. And the 5 series release lets you work in more flexible ways with data in the cloud, including the ability to work with cloud data lakes, as well as the ability to export ServiceNow data to CSV, which means you can use cloud storage services like Amazon S3, Microsoft Azure Storage or Google Cloud Storage.
Numerous Fortune 500 companies depend on SnowMirror to replicate data from ServiceNow. This data can then be used with business intelligence tools such as PowerBI or Tableau to create powerful reports and dashboards.
SnowMirror is always compatible with the latest ServiceNow release, so SnowMirror users can rest assured that compatibility is both easy and simple.
For more on the ServiceNow Utah release, you can read the release notes on the ServiceNow website.