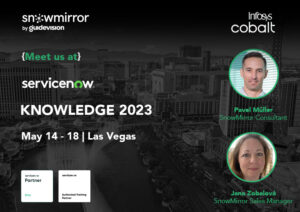 It's time once again for ServiceNow's Knowledge conference, the most important event on the ServiceNow community's calendar. The SnowMirror team will be there, along with colleagues from GuideVision and our parent company, Infosys. As is the tradition, Knowledge23 will be held at the Venetian hotel and resort in Las Vegas, Nevada.
Knowledge will feature keynotes from ServiceNow CEO Bill McDermott, as well as other luminaries in the Now Platform community, as well as a packed schedule of events.
At Knowledge 23, we'll be happy to talk with you about ways you can work more effectively with data from ServiceNow on other platforms, and about SnowMirror, the smart replication solution for ServiceNow. We can show you our new SnowMirror 5.1, which makes it easy to replicate ServiceNow data to cloud storage solutions like Amazon S3, Microsoft Azure Cloud Storage, and Google Cloud Storage.
Knowledge 23 offers a great opportunity to train and develop your ServiceNow skills from the hundreds of demo and training sessions available during the event. You can come together with industry experts, thought leaders, and top ServiceNow partners to discuss how. you can work more effectively on the Now Platforms. There are several key reasons why you should attend:
Outstanding content: Keynotes, sessions and demos by leaders of the ServiceNow community, combined with breakout sessions led by customers, experts, and partners.
Networking opportunities: Meet with other ServiceNow customers and partners from around the world who are facing similar challenges and opportunities.
Hands-on learning: Get hands-on experience with the latest ServiceNow innovations in the CreatorCon developer hub.
Fun: Enjoy a variety of fun activities such as concerts, parties and more.
SnowMirror's Pavel Müller and Jana Zobalová will attend Knowledge 23 as part of the Infosys Cobalt and Enterprise Service Management Café contingent, along with a larger GuideVision team that includes CEO Radovan Krejčí, DACH Managing Director Alexander Keim, Principal ServiceNow Architect Jan Procházka, and Principal Consultant Jiří Nádvorník.
Find out more about Knowledge 23 at the ServiceNow website.